At just over three years old, the Amazon Echo is due for a tune up. 
Thankfully, Amazon, the ecommerce giant and now well-positioned ruler of the smart home, realized this and has taken it upon itself to ratchet up the original and create the all-new Amazon Echo Plus.
The Plus, therefore, isn't just a marketing gimmick tacked on for the sake of selling more Echos, but a wholly new product that refines a lot of users' biggest gripes with the original. 
In short, the Plus will have enhanced 360-degree omni-directional audio that will trounce its predecessor, and come with a built-in smart home hub that's compatible with some of the largest product ecosystems like Zigbee, Philips Hue and Hive. That means no more buying separate hubs for those products, saving you space on the shelf and money in your account.
Like the original Amazon Echo, the Plus will also benefit from a host of new software upgrades coming this time next month. You can look forward to calling anyone, anywhere similar to how the Google Home works, and the new group feature will let you tether two or more Echo devices together into a cohesive multi-room audio solution.
So, are you ready for the Amazon Echo 2.0? 
Cut to the chase
What is it? A souped up version of the Amazon Echo
When is it out? October 2017
How much does it cost? $149/£139
Amazon Echo Plus release date
The Amazon Echo Plus is available to pre-order in black, silver and white trappings starting on September 27 2017 and will be available to purchase starting in October. Amazon didn't give us an exact day when units would start hitting doorsteps, but the roll-out is going to happen quickly. 
The speaker will be available first in the US, UK and Germany and be available in the same timeframe as the new, smaller Amazon Echo (2017). While the two have a few similarities (they'll run the exact same software, for example) the Plus will be the more robust-sounding, well-stocked option.
Amazon Echo Plus price
The Amazon Echo Plus is going to cost $149 in the US and £139 in the UK. Amazon has yet to announce the Australian price for the speaker, but expect it to be around AU$200. 
To put that number in perspective, it's $50/£50 more than the new basic Echo, but only $20/£10 more than its closest competitor, the Google Home. 
We've gone into detail in other places, but the main differences between the Echo Plus and the Google Home will be the Plus' ability for better-sounding 360-degree audio and the Home's slightly better artificial intelligence. 
Both systems can make phone calls to whoever, wherever, and both generally are compatible with the same smart home products.
Amazon Echo Plus specs
So what's happening inside the Amazon Echo Plus to make it a more powerful speaker? The two big additions are the built-in smart home hub and the more powerful speaker driver.
As for the technical details, the 9.3 x 3.3 inches (H x D) and 33.6 oz. (235 mm x 84 mm, 954 grams). Inside is a 2.5" woofer and 0.8" tweeter powered by Dolby – by which we assume there's some upscaling happening to make music come across clearer and more powerful than it did in the 2014 Amazon Echo. 
Along the top rim of the speaker, you'll find seven far-field microphones and an LED ring, similar to the one found on the original Echo. At the base of the Plus, you'll find a port for power and a 3.5mm jack. 
The Plus, as you might've noticed, is screen-less. If audio isn't enough for you and your speaker feels incomplete without a visual component, you'll have to upgrade to either the Amazon Echo Spot or Amazon Echo Show.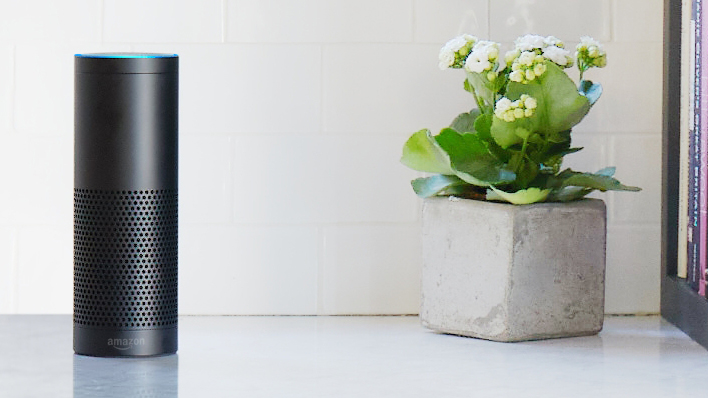 So what does the Amazon Echo Plus do?
A lot, frankly. For starters, it's a Bluetooth speaker. It can stream music from some of your favorite services like Pandora, iHeartRadio, Spotify and Amazon's own music streaming service among others. It also allows you to listen to audiobooks, news briefs and radio stations. 
But it's not any ol' Bluetooth speaker. Like the Echo before it, the Amazon Echo Plus has Alexa, a semi-intelligent AI, built-in. Alexa can answer the majority of questions you have and manage a lot of minor tasks for you. You can add items to your shopping list, for example, and manage your calendar using Alexa's help. 
Alexa's greatest utility, however, is its ability to become the center of your smart home. Alexa can connect to many of the smart home ecosystems out there, allowing you to control your lights, thermostats and more with your voice. This can be handy when you have your hands full with little ones running around or when you're setting the mood and don't want to get up to fiddle with the lights. 
New for this year is the ability to use the Amazon Echo as a near feature-complete home phone: You can make outgoing calls via Alexa to anyone in your home country for free. It's something Google Home has had for a month or two already, so it's nice to see Amazon warming up to the feature as well.
Perhaps more importantly than any of the above, the Amazon Echo Plus is an ever-evolving smart product – one that will very likely be more capable a year from now than it is today. Buying one is a ticket to the voice-controlled future, one that's a bit turbulent at right now, but holds a world of promises.