Update: We could very well have a more detailed look at what skills are going to look like when used on the Amazon Echo Show. Amazon has revealed Display Cards which is says are intended to bring visual experiences to Alexa-enabled devices. 
Though this is opening the ability to visually display skills to other Alexa devices, it's also a good indication of how things like weather, search results, music, calendars and to-do lists will appear on the Show when it launches in the US next week. 
As far as how third-party skills are likely to look on-screen, Amazon has previously said they will draw on existing skill cards. However, new developer tools will be released so that these cards can be optimized for the Show's screen and cameras. 
Original article continues below…
Amazon has finally announced the Amazon Echo Show, the first Echo device equipped with a screen. 
The Show follows in the footsteps of the recently announced Amazon Echo Look, which combined Amazon's Alexa voice assistant with a camera that can take pictures and offer style recommendations. 
The Show is a radical departure from previous Echo devices as it can provide you with information visually (via its screen) as well as through sound; previous speakers were limited to using voice to communicate. 
Cut to the chase
What is it? The newest entry in Amazon's voice-activated line of Echo products
How much will it cost? $230 (rumored to be £220 in the UK, and AU price tba)
When is it out? June 28 and up for pre-order now on Amazon US with no official UK or AU release date yet announced
Amazon Echo Show release date
Confirming what was rumored earlier today due to a leak, Amazon has announced that the Amazon Echo Show will be released on June 28 in both the US and UK, with pre-orders open now in the US.  
That means you'll have to wait a month and a half to get your hands on the new speaker if you order it today in the US. 
Although the device is rumored to be coming to the UK simultaneously with the US, no official announcement about UK availability has yet been made. 
Since Australia is still yet to receive the Amazon Echo, we're not holding our collective breath for the Echo Show to make its way there anytime soon. 
Amazon Echo Show features 
As well as the Alexa voice assistant, which we've become familiar with thanks to its inclusion in existing Amazon Echo speakers and Amazon Fire TV devices, the Amazon Echo Show is equipped with both a screen and a webcam, which will allow it to both show you, as well as tell you, information. 
The screen is seven inches in size, and is touchscreen-enabled. It's capable of showing notifications, playing internet video, and showing lyrics on Amazon Music, among other things, and it can also facilitate conversations between different devices in the same house. 
It'll be interesting to see whether this functionality is expanded in the future to enable the Show to make voice calls outside of the home, as a pre-announcement leak from the WSJ suggested.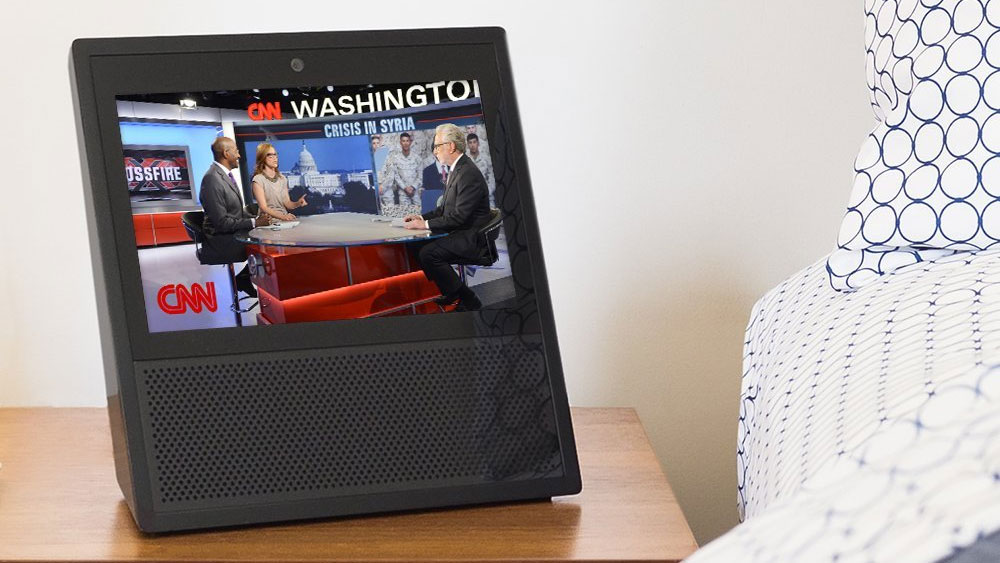 The screen can also be configured to show a live video feed from elsewhere in the house through compatible third-party security cameras. 
In addition to the screen, the Amazon Echo Show is also equipped with a camera, as is the recently announced Amazon Echo Look. Amazon is pitching the Look as a style accessory, which will, for example, analyse your clothes in order to offer outfit suggestions. 
This functionality will presumably also be making its way to the new Amazon Echo Show, although this is yet to be confirmed. 
The Show is available in black or white color options.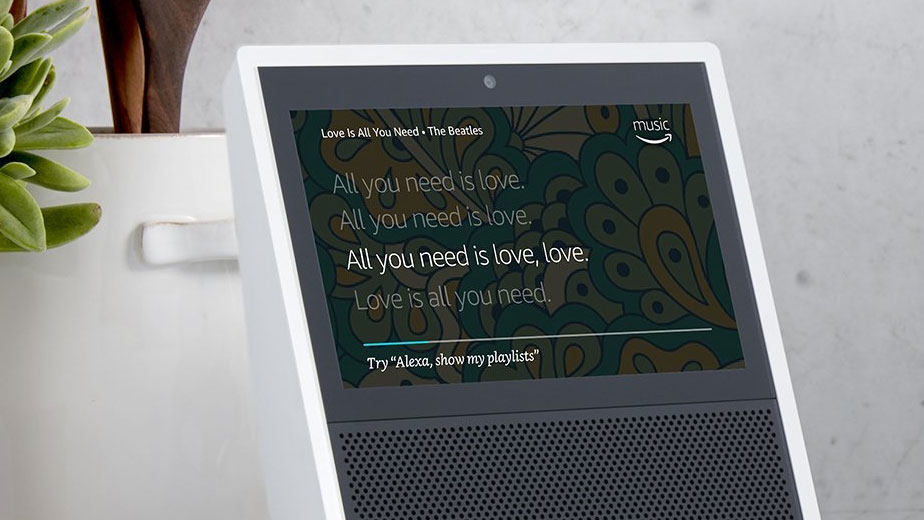 As well as this new screen and camera functionality, the Show is compatible with Amazon's existing library of skills, which range from ordering cabs with Uber to controlling smart lightbulbs and thermostats, although existing skills will be audio-only until they're made Show-compatible. 
The Show is equipped with eight microphones, which is one more than the existing Amazon Echo speaker. Given that the existing Echo is already pretty good at picking up our voice we're unsure why an extra microphone is needed, but it's a nice inclusion all the same.
Finally, the new device is equipped with Bluetooth, so even if your music app of choice isn't supported natively (such as Apple Music), you can still stream it to the Echo Show. 
Pre-announcement leaks
We first heard rumors of the Amazon Echo Show a couple of months ago when Cnet reported that Amazon was planning on announcing a screen-equipped Echo device. 
That report claimed the device, which we now know to be the Amazon Echo Show, was planned for later in the year, but its release was pushed forward after fears that Google Home was progressing more quickly than expected. 
Then, just a few days ago, AFTVnews discovered a low-resolution image of the new device, codenamed the Echo 'Knight', on Amazon's servers. When it posted the discovery on Twitter, journalist Evan Blass responded with a much higher-resolution version of the same image. 
This week saw the leak of an announcement date of May 9, followed by a further leak of the price, release date, and name. 
Between all of these leaks we've built up a pretty good idea of what the new device should be capable of, and most of the leaks have now been confirmed by the official announcement.