'Tis the season to get shopping with Christmas not too far away. And with technology evolving so quickly, we understand it can be quite overwhelming to find the perfect gift for loved ones this time of year.
So TechRadar's Australian team went a-hunting and found some of the best tech gifts, with a little something for everyone in our list – presents that would suit every budget, from e-readers to connected toys, smart home kits to gaming gear.
Gifts under $100
Fujifilm Instax Mini 9: Got a teenager who loves taking pictures you need to buy a gift for? The Instax Mini 9 is the latest addition to the instant camera range from Fujifilm and this little compact bundle makes taking pictures a whole load of fun. There's a selfie mirror to make sure you've got the framing right, there's a close-up lens attachment for shooting up to 35cm away and you can adjust brightness to your satisfaction. There's a few bright colours to choose from and the Instax Mini 9 is available from various retailers for less than $100.
Self-stirring cup: Got a family member who's lazy as? Well, nothing wrong with lazy, we say. And you can encourage that laziness by gifting them a self-stirring mug, which would take the effort out of having to stir a hot beverage (or a cold one for that matter). Even cleaning it as as easy as adding soap and letting it self-stir. You can get a self-stirring mug for just $25 from Yellow Octopus. 
Google Home Mini smart speaker: Has a loved one been talking about smart home gadgets all year? Gift them the Google Home Mini – the bite-sized smart speaker from Google – so they can get help with organising their day, keeping up with the news or even doing the little chores like switching lights on and off. It's the roommate that will not encroach on personal space. The Google Home Mini retails for $79.
Google Chromecast: This nifty little gadget is one of our favourite streaming devices and it's the best way to watch your favourite shows on Netflix or Stan, streaming direct to your non-smart TV. It's not capable of 4K, but Google Chromecast is a great gift that will set you back just $47 when shopping at Officeworks. For those interested in viewing in Ultra HD (4K), the Chromecast Ultra is $77 at Officeworks.
Tile (Sport, Style, Slim, Mate): Know someone who keeps misplacing their keys or wallet? Consider giving them a Tile, a white square puck that will audibly let you know its location via Bluetooth as long as you're within a 100 feet radius of it. And there's a different Tile tracker for everyone – the basic version, Tile Mate is just $38, while the the thinnest version, Tile Slim retails for $44. For the style-conscious there's the Tile Style for $49 and the more rugged and waterproof Tile Sport also retails for $49.
Gifts under $300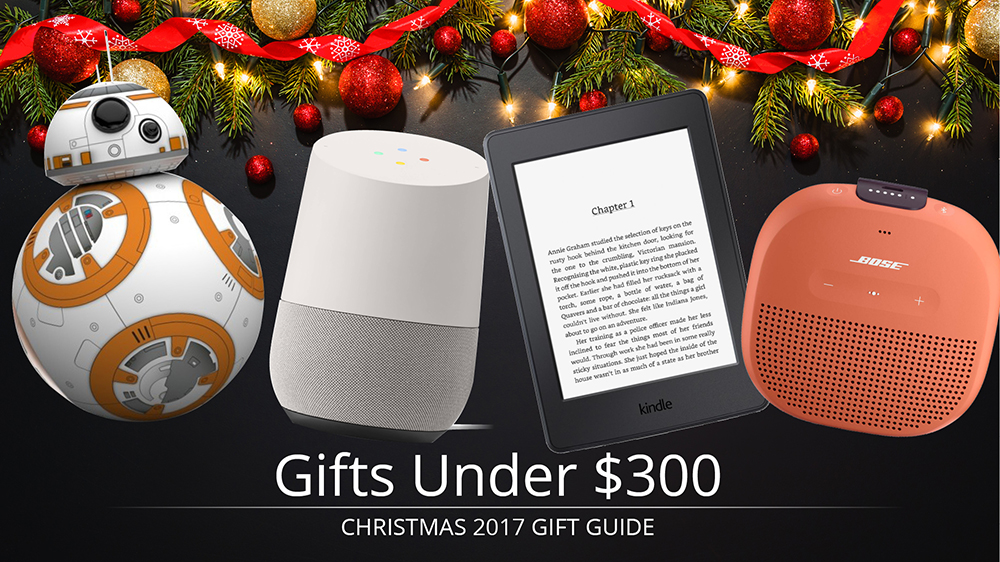 Sphero BB-8: When BB-8 made his debut in Star Wars Episode VII: The Force Awakens, the little droid stole our hearts. And Sphero, the company that shot to fame with the first remote controlled robot toy, has an app-controlled replica of the loveable little guy. The droid can be moved around with the dedicated app and the little fella will react to your voice with little chirps of its own. Machine learning will see it improve with interactions and the Sphero BB-8 connected droid will set you back $220 when shopping at Harvey Norman.
Sphero R2-D2: Sphero has even brought us R2-D2 from a galaxy far, far away. This astromech droid is also app controlled with its signature lights fully functional. Artoo will communicate with your through its beeps and boops and will happily explore the world of Star Wars with you. Sphero's R2-D2 retails for $297 at Harvey Norman.
Google Home: Smart speakers are just entering the market in Australia and we think the Google Home is a great gift for anyone who's been looking for a bit of help around the house. It's the Home Mini's bigger brother, of course, but they both function similarly. You can ask Google Assistant to search for something without lifting a finger, or get a recipe for roast kangaroo. Connect it to third-party accessories, like smart bulbs, and forget wall switches. Google Home retails for $199 in Australia but, if you're comfortable with an imported model, you could find one for cheaper.
Parrot Mambo mini drone: You can't take pictures with it, but if you've got a prankster in the family, this might be something for them. A cannon allows users to shoot little projectiles or the grabber will easily airdrop sweet nothings to loved ones. It makes flying a drone a heck of a lot of fun. The Parrot Mambo is available at Digital Camera Warehouse for $198.
Samsung Gear VR + controller (2017 edition): Stepping into the world of virtual reality is easy with the Samsung Gear VR headset, provided the person you're giving it to has a compatible Samsung smartphone. If they're using anything newer than a Samsung Galaxy 6 or Galaxy Note 5 , it should be just fine. The latest edition of the Samsung Gear VR, which comes with a controller, is available in black for $169 at Scorptec.
Google Daydream View VR headset: A more affordable option for exploring the wonders of VR is Google Daydream. This headset is light, durable and features smart sensors that track movements and gestures. Currently the headset is compatible with just Google's flagship phones, but is poised to work with many more Android smartphones in the future. You can get a Google Daydream View for less than $150.
Kindle Paperwhite: Got a lover of books in the family? Instead of finding them shelf space for their growing library, get them an e-reader that won't burn a hole in your pocket. The Kindle Paperwhite is still one of the best Kindle options in the market, with a combination of a sharp screen, improved typography and an affordable price. The Kindle Paperwhite is available for $174 at Officeworks.
Philips Hue smart lighting systems: If adding smart home products to upgrade the home is something that's been on the cards this year, get your loved one a Philips Hue starter kit and watch their face light up. The Hue smart lighting systems work through your home's network, with the Hue Bridge directly connecting to the router. The bulbs can be controlled via an app, or via digital assistants like Siri (on HomeKit) and Google Assistant. You can get a Philips Hue White E27 starter kit from Officeworks for $144 or, if you wish to set up some mood lighting, the Philips Hue White and Colour Ambiance E27 starter kit is up for grabs for $289. If you aren't too enthused about coloured lighting, Philips Hue also has a starter kit in the soft white spectrum which comes with dimmable bulbs and some mood lighting – the Hue White Ambiance kit is available for $188 at Officeworks.
Bose SoundLink Micro: There is no doubt that Bose has some of the best audio gear in the market today, and the company's latest product is no exception. The Bose SoundLink Micro is a palm-sized Bluetooth speaker with big sound. It can go everywhere and keep everyone entertained. Moreover, the Bose SoundLink Micro is available for around the $150 price point.
DropMix music gaming system: This could be something for the entire family, especially if it's a music-loving family. DropMix is a music mixing game where up to four players can team up or duke it out to show off their DJ skills. Lay down beats, bass-lines, and other iconic lines from the hottest chart bangers or classic anthems — from hip-hop to hard rock — and mix them masterfully to rack up your points. The DropMix deck interacts with NFC-enabled cards, each with their own track or track component on them, as you lay them down, and the deck connects to your Android or iOS device via bluetooth, running from the companion app. DropMix is available on Kogan for $200. 
Gifts under $500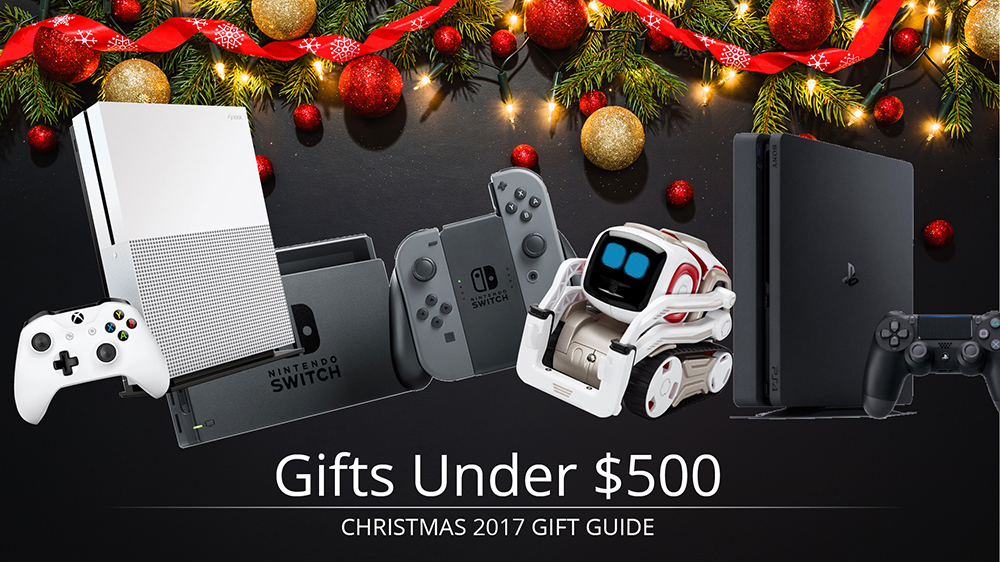 Anki Cozmo: Cozmo is a little robot with big brains and even bigger personality. He's a great desktop companion that will make kids out of the adults and get kids interested in coding from a young age. It's fun to use and comes with some cool features. For its diminutive size, the robot carries quite the hefty price tag, but head to Kogan or Dick Smith and you can grab Cozmo for $319.
Olloclip Filmer's Kit: Got a wanderlust in the family who loves to share their adventures with everyone else? The limited edition Filmer's Kit from Olloclip is a great gift idea that brings together four of Olloclip's signature lenses – telephoto, superwide, ultrawide, fisheye (with the macro lens available after unscrewing the fisheye) – with the addition of an all-important Pivot articulating grip for stability. Just bear in mind it's compatible with iPhone 7/7 Plus and 8/8 Plus. The Olloclip Filmer's Kit is exclusively available via the Apple Store for $320, although stock might be limited.
Kobo Aura One: For readers who want the best, Kobo's latest offering is a great gift, albeit premium. With a 7.8-inch screen designed to keep sleep patterns intact and a waterproof body, it's a great travel companion that can store a heck of a lot of books. The Kobo Aura One retails for around $350.
PlayStation 4 Slim: If you have to shop for a gamer and your budget allows for it, you could consider a gaming console. The new PS4 Slim effectively replaced the original PS4 when it launched in September 2016. This smaller, lighter and more power efficient model also ends up being cheaper than the model it replaced. Right now, the PS4 Slim 500GB console is $438 at Harvey Norman, while the 1TB PS4 Slim is retailing for just under $500 with a game included.
Xbox One S: Sony's console isn't the only option there is when it comes to gaming consoles. Microsoft is in the game too. At once more elegant and more powerful, the slimmed-down design of the Xbox One S ditches the external power brick and chunky looks of the original Xbox One. More importantly, it comes kitted out with 4K visual support meaning you'll be able to watch specialised Blu-Ray and Netflix content in 4K. And with the latest Xbox One X already flooding the market, the price for the older model has fallen. The Xbox One S is now less than $400 for both the 500GB and the 1TB models.
Nintendo Switch: The Switch is versatile – it can be used as a handheld device for taking along on boring commutes or can be used as a tethered console for home use. It's got a premium feel that matches its premium price tag, but it's one heck of a console with plenty of fun games. The Switch is available for around $460. 
Nikon D3400: Another great beginner DSLR, the Nikon D3400 also has a compact design and comes with a great battery. It does, however, lack touchscreen functionality, but its image quality is pretty good. If you aren't after a full kit, you can grab the Nikon D3400 body-only for about $420, but a kit with a single lens will set you back about $500.
Gifts under $1,000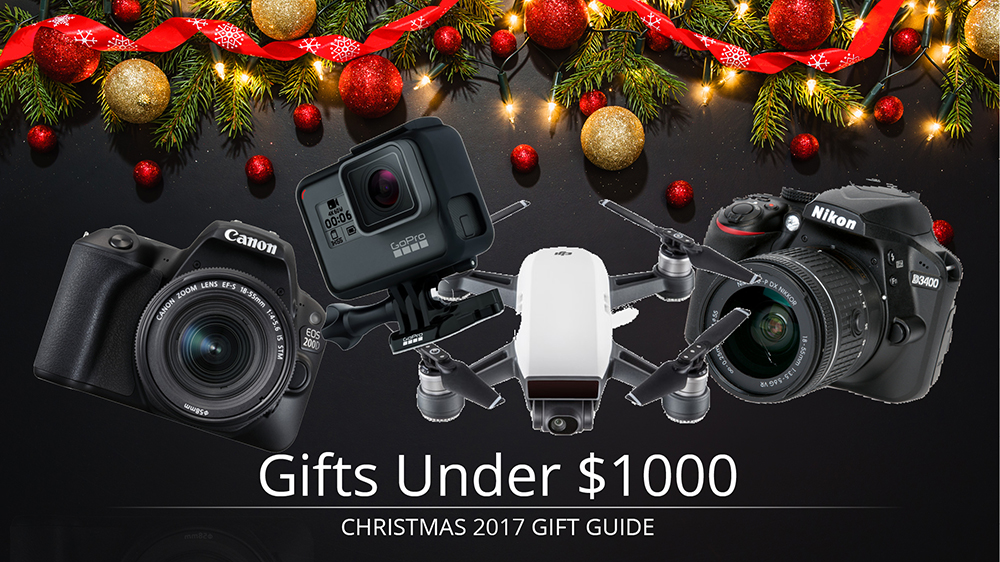 GoPro Hero6 Black action camera: For anyone who wants to capture their adventures (or misadventures, as the case may be), GoPro has given its latest action cam a massive upgrade that allows 4K 60fps and super-slow-motion Full HD 240fps video capture. It would definitely make a great gift, with a retail price of $749, but it is possible to find the GoPro Hero6 Black for less than $700.
Xbox One X: While not technically a 'next-gen' console, the Xbox One X is still a powerful upgrade over the current Xbox One lineup. The target audience is gamers with a 4K HDR TV who want to squeeze the best graphical performance possible out of their console. The Xbox One X comes in just the 1TB flavour and retails for $649.
PlayStation 4 Pro: Like the Xbox One X, the PS4 Pro is for 4K gaming. HDR, or High Dynamic Range is another buzzword to be excited about as the PS4 Pro will allow for extra detail to be seen on a range of games and also a wider range of colours not usually displayed by traditional HD TVs. You can get a 1TB PS4 Pro console for around the $550 price point.
DJI Spark: While the Spark may not be the most powerful drone available today, this palm-sized quadcopter makes flying a drone and taking aerial footage plenty of fun for everyone, no matter their proficiency in flying drones. It's also the only drone so far to respond to hand gestures, making the user feel like a Jedi. It launched with a price tag of $859 earlier this year, but you can find the DJI Spark for less than $700.
Canon EOS 200D: This new DSLR from Canon is compact, lightweight and a great gift for anyone wanting to step into the world of DSLR photography. For the kids beginning their photographer dreams or for the grown-ups who want to know more, the 200D has a touchscreen display with a guided menu which is very useful to have. It's very easy to use and has reliable picture quality too. You can get a Canon EOS 200D kit box (which comes with a single kit lens) for around the $600 mark.