Update: Leaked images have shown both the Nokia 8 and an assortment of specs on its screen, giving us a clearer idea of the resolution and power of the phone.
Throughout the past few weeks, we've seen basically seen every last bit of possible info leak out. Of course, we've yet to see the phone for ourselves, but given what has surfaced, the Nokia 8 could be a strong flagship contender whenever it releases.
Stay tuned for updated news, features and the Nokia 8 release date, which we'll update as soon as we know ourselves.
HMD Global, the company behind the rebirth of Nokia phones, might have two flagships coming this year, and while the Nokia 9 is possibly still months away, the Nokia 8 could be landing very, very soon.
It's been heavily leaked and even accidentally revealed by Nokia itself, so we know a lot about it, all of which you'll find below.
From the design, to the specs and likely price and release date here's everything you need to know about the next Nokia flagship, the Nokia 8.
Cut to the chase
What is it? A flagship Nokia phone
When is it out? Probably August 16
What will it cost? Rumored to be around £465/$605/AU$760
Nokia 8 release date and price
Hottest leaks:
Launching on August 16
Likely to undercut other flagships
We're almost certainly going to see the Nokia 8 on August 16, as HMD Global is holding an event on that day, where we'll see "the next milestone for Nokia phones".
As for the price, the latest information, supposedly coming from Vodafone Romania, puts the price at €517.42 (around £465/$605/AU$760).
Previously one source had pegged the Nokia 8 at $675 (roughly £510, AU$860), though we'd also previously heard that it might be cheaper, at around $470/£360/AU$595.
TechRadar's take: It looks like the Nokia 8 will launch on August 16, while the price is sure to be high, but based on these leaks possibly lower than most flagships.
Nokia 8 screen
Hottest leaks:
A 5.3-inch edge-to-edge screen
A QHD resolution
Various leaks have all suggested that the Nokia 8 will have a QHD screen, and more recently we've heard that it will have a 5.3-inch one, using 2.5D curved glass, and that it will have a 559ppi pixel density.
We've also seen images of the phone (including one accidentally posted by Nokia itself), showing that it's likely to have an edge-to-edge display, but that the top and bottom bezels may be larger than we've come to expect from recent flagships.
TechRadar's take: There haven't been many size rumors so we can't be certain of that yet, but the edge-to-edge look has been all but confirmed by Nokia itself, along with other leaks, while a QHD resolution is looking likely.
Nokia 8 design
Hottest leaks:
We've recently seen images supposedly showing the Nokia 8 in the flesh, as you can see below in a shiny copper shade.
They match up with earlier leaked images that we've seen, suggesting the Nokia 8 will have a slim metal shell, with curvy edges.
There's a dual-lens camera on the back (more about that below), while below the screen there's a home button (almost certainly housing a fingerprint scanner), along with back and recent keys.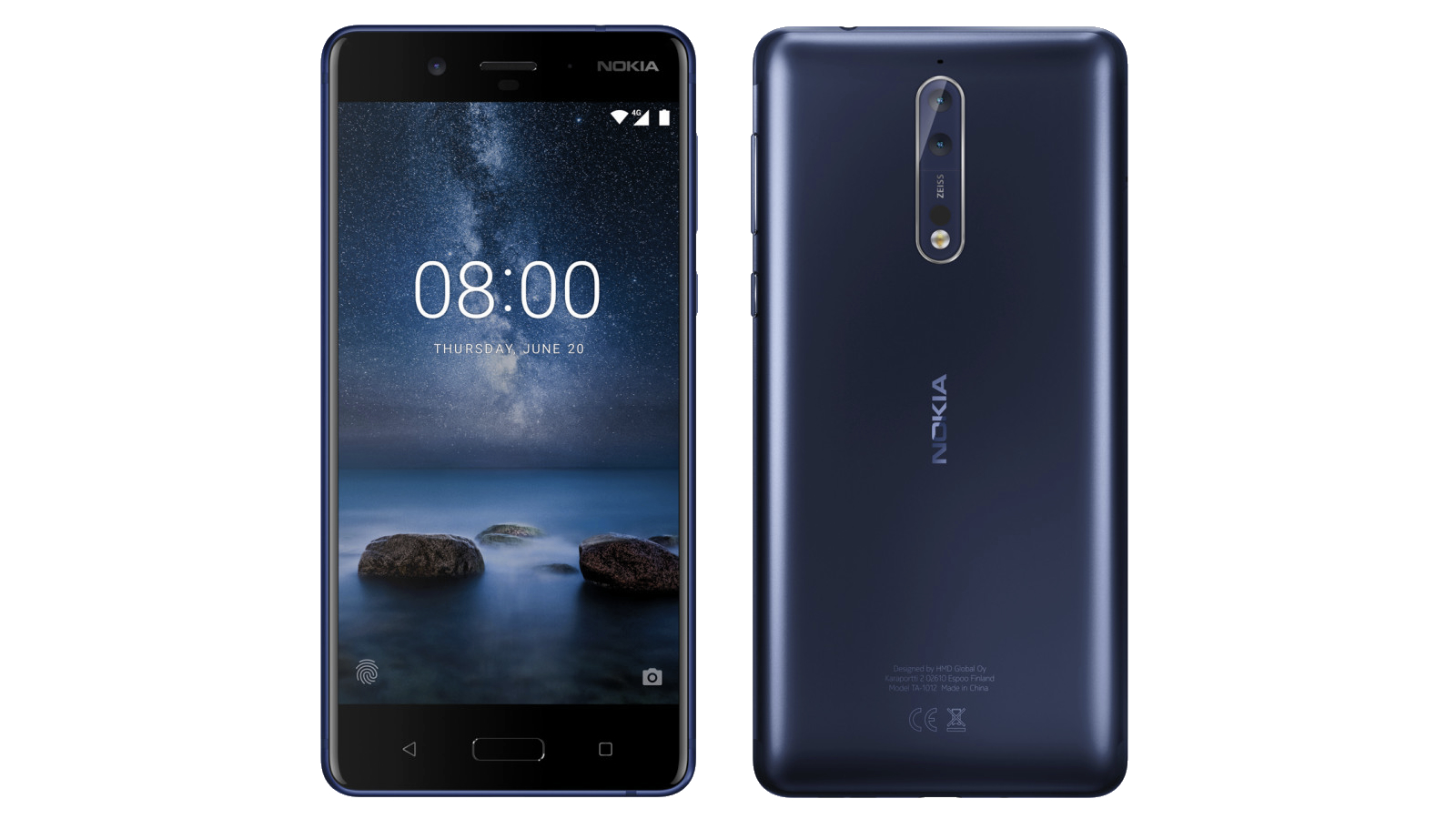 Above the screen you'll find a small Nokia logo and front-facing camera, while one side looks to house both the power and volume buttons.
In all it looks to be a high-end design, but one that's perhaps lacking the flair of some flagship phones like the Samsung Galaxy S8 or HTC U11. As Nokia itself has shown off this design in both an image (the render in the screen section) and a video it's likely accurate.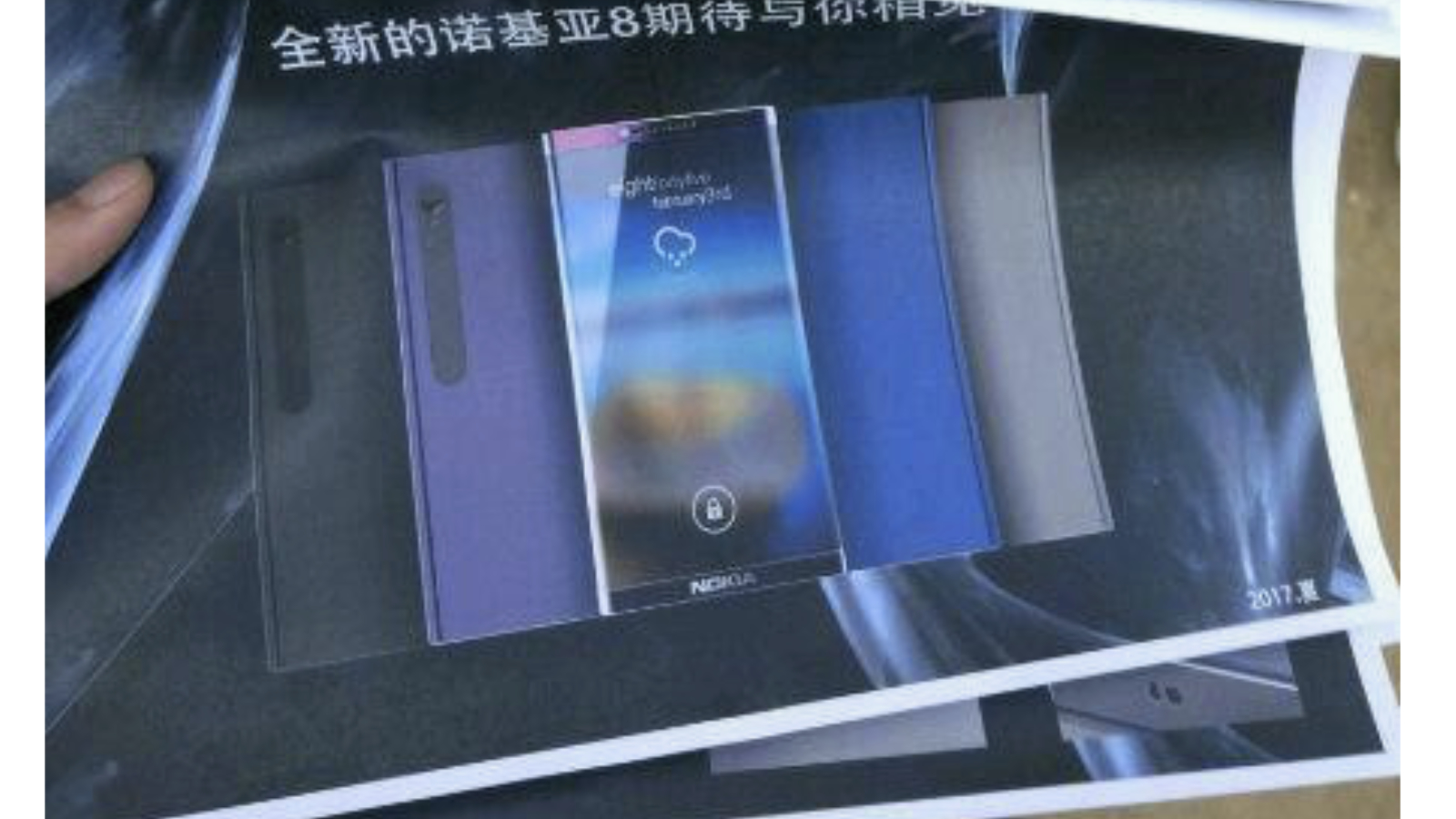 It's worth noting though that not all leaks show this design. One shows tiny bezels above and below the display, with no physical home button.
However, it's likely this is fake, or, if not, that it's actually showing the Nokia 9, which is thought to have an all-screen front, as you can see in the leaked diagram below, which supposedly shows both handsets.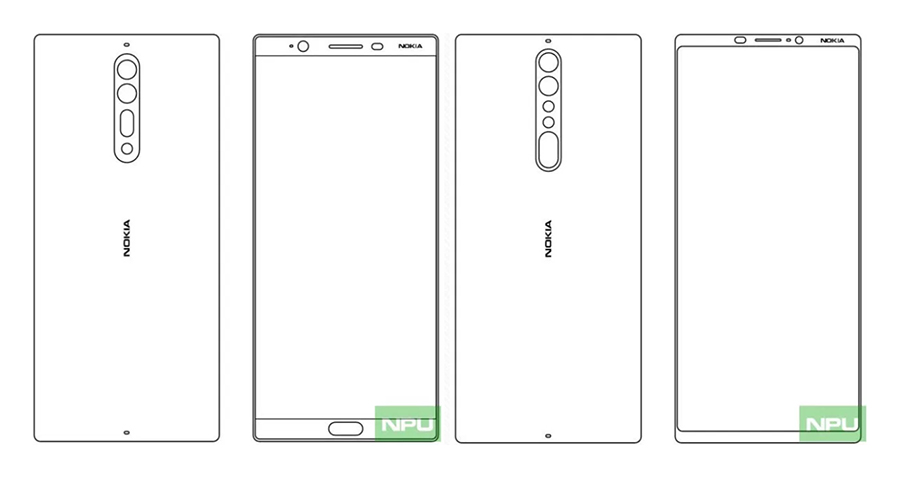 A retailer has also listed the phone, suggesting it will come in blue, steel, gold/blue and gold/copper.
TechRadar's take: Given that an official Nokia image and video have both seemingly shown off the Nokia 8 we can be pretty confident that the design is what we're seeing in the bulk of the images.
Nokia 8 camera and battery
Hottest leaks:
A dual-lens 13MP camera
Made in collaboration with Zeiss
Most leaked images we've seen of the Nokia 8 show it with a dual-lens camera, and we've heard from one source that it will be a 13MP dual-lens one, made in partnership with Zeiss.
That's the same camera brand as powered Nokia handsets of old, and it's already been confirmed that HMD Global (the company behind Nokia's new phones) has partnered with the brand.
While we don't know what this partnership will mean for the Nokia 8, or what tricks its dual-lens camera will have, it seems clear that photography is a focus for HMD Global, so the snapper could be a high point of the phone.
We don't know anything about the Nokia 8's battery just yet, other than talk that it will support fast charging, but with a launch likely just around the corner we probably will soon.
TechRadar's take: A dual-lens camera is looking very likely and 13MP would make sense, as that's in line with most flagship smartphone cameras.
Nokia 8 internal specs and OS
Hottest leaks:
A Snapdragon 835 chipset
4 or 6GB of RAM
A recent image leak shows many of the Nokia 8's apparent specs onscreen, including a Snapdragon 835 chipset and 4GB of RAM. You can see that image below.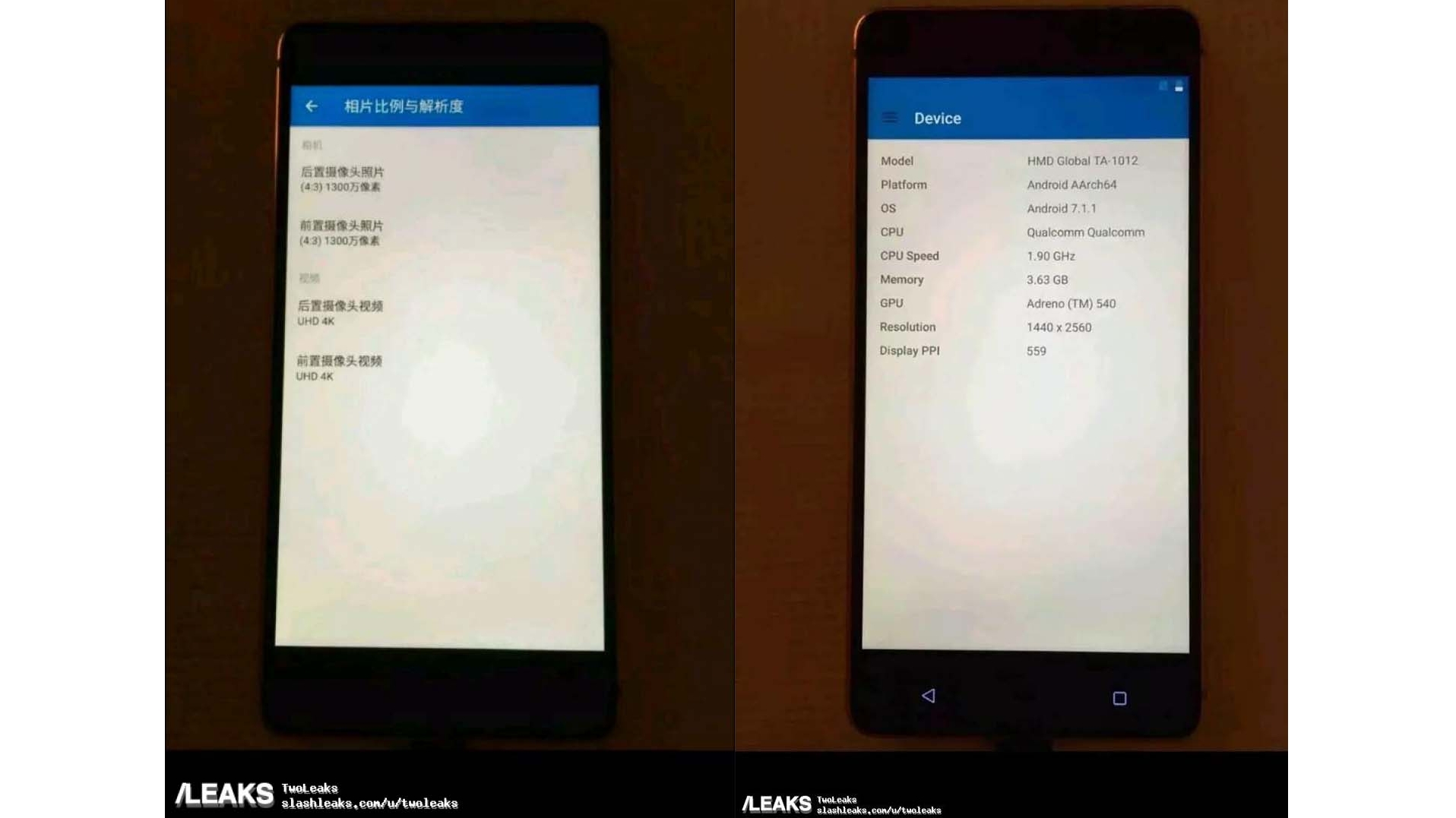 In fact, most sources agree that the Nokia 8 will have a Snapdragon 835 chipset. That's the same high-end one you'll find in the likes of the HTC U11 and Sony Xperia XZ Premium.
Alongside that it's also rumored from multiple sources to come in configurations with 4GB and 6GB of RAM, making it undeniably a flagship.
One source adds that there could be 128GB of storage, and it's said to run Android 7.1.1 Nougat.
TechRadar's take: The leaked specs sound believable, though if there are both 4GB and 6GB versions it's possible that not all regions will get both. Expect the 4GB model to be more widespread.
We've already gone hands on with the Nokia 6