Update: The Samsung Galaxy Note 8 release date is just two months away, according to a new report. It's also less likely to get Android O and a in-screen fingerprint sensor, but will beat the iPhone 8 and iPhone 7S to market.
The Samsung Galaxy Note 8 is the biggest comeback story in phones following all of the disastrous Galaxy Note 7 battery failures last autumn.
And now that our Galaxy S8 and Galaxy S8 Plus reviews are up, we're focused on what next's for Samsung's S Pen-equipped smartphone and its launch date.
It's fascinating: The Note 7 will go down in smartphone history for all the wrong reasons, yet when it wasn't causing property damage or injuries, it was among the best phones you could buy. That honor was short-lived.
Where does Samsung go from here? We now have a better idea of the Galaxy Note 8 features thanks to the Galaxy S8 and Galaxy S8 Plus launch. They look and feel like Note phones (read: really big) without that all-important S Pen.
Samsung will build on top of its new all-screen technology, and the Note series will continue to be Samsung's high-end, at times experimental smartphone.
Ready for the future? It's time to dive into all of the promising Note 8 rumors, as new leaks begin to emerge ahead of a possible August release date.
Cut to the chase
What is it? Samsung's next flagship phablet
When is it out? Autumn of 2017 is very likely
What will it cost? A lot, the Note 7 cost $850/£749/AU$1,349
Samsung Galaxy Note 8 release date
Samsung has already confirmed that the Galaxy Note 8 release date will happen in 2017. That's a fact.
And while the company didn't go into more detail about the launch date, we've come to expect an S Pen compatible Android phone every autumn. Trusted source The Korea Herald has reported the Galaxy Note 8 will come out in August in order to beat the iPhone 8 to market.
That release date would make sense considering both the Note 7 and Note 5 arrived in August too.
Pre-register for Samsung Galaxy Note 8
Could it come earlier? Sure. Samsung may want to fill the void of the Note – the UK hasn't had a Note phone permanently available since the Note 4. Ouch.
But Samsung may also wants to take its time for the sake of battery safety. And the S8 and S8 Plus launched later than normal. October would put the Note 8 six months from the S8 launch date. Perfect.
Here's what we're going to look out for over the next several months: the phone with the model number SM-N950, as revealed by leaker Evan Blass.
We're also digging up information on Baikal, the supposed codename for the Note 8 that refers to a Siberian lake – the lake deepest in the world.
TechRadar's take: Note 8 may launch in late September, with a late October release date. That's six months after the S8 and S8 Plus. It would give Samsung more time to run extra safety tests. There's a chance that the company will want it out sooner to fill the void of new Note phones on sale, but  we're unlikely to see anything sooner than autumn.
Samsung Galaxy Note 8 screen
Hottest leaks:
Pixel-sense 4K resolution
6.4-inch screen size likely
Another 'Infinity Display'
The Samsung Galaxy Note 8 may once again make the Note series known for its groundbreaking screen, but not just because of its size this time around.
We're predicting that the Note 8 will be one of the first smartphones with a pixel-dense 4K screen, with convincing rumors backing up that theory.
Why do you need a 4K resolution on a phone? You don't when it's in your hand; the Galaxy S8 and S8 Plus look good enough paired down to Full HD 1080p in its battery saving mode.
But a 4K screen is important when your phone doubles as a Samsung Gear VR headset screen. Otherwise, you'll see individual pixels (that's what we call the screen door effect) when it's just two inches from your face.
What about the Note 8 screen size? The phone series has stuck to a 5.7-inch screen ever since the Note 3, but it'll almost certainly break from tradition.
A 6.2-inch Samsung Galaxy Note 8 is more likely, because the Galaxy S8 Plus has reached that tipping point. It's really hard to see it being any smaller than that.
But an even bigger 6.4-inch screen is very possible, and indeed has been rumored, with the source adding that it will be a QHD+ OLED display with minimal bezels, just like the S8 and S8 Plus.
It's also, unsurprisingly, likely to have an 'Infinity Display', an idea backed up by a recent front display panel leak. That's what Samsung calls the near bezel-free 18.5:9 display on the Galaxy S8, and it would make sense for a similar screen to be used on the Note 8. Not only would it make sense, but it's also been rumored.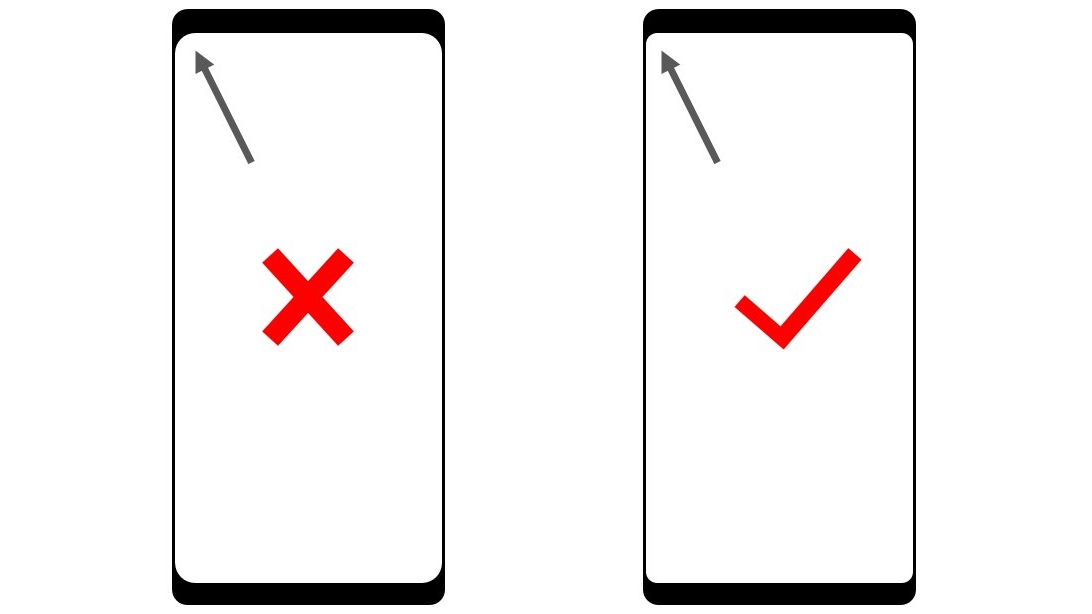 Samsung might go even further that maximize the screen-to-body ratio on the Note 8 though, with the image above suggesting the corners will be shrunk.
Another rumor suggested that the Galaxy Note 8 could act as Samsung's first smartphone with a foldable screen. It's extremely unlikely, but a fun thought.
Samsung is rumored to be readying two foldable phones for 2017. But we don't feel like it's due for a flagship phone just yet – not this year at least. We've seen patents for what could be the Galaxy Note 9, too, but that's even further out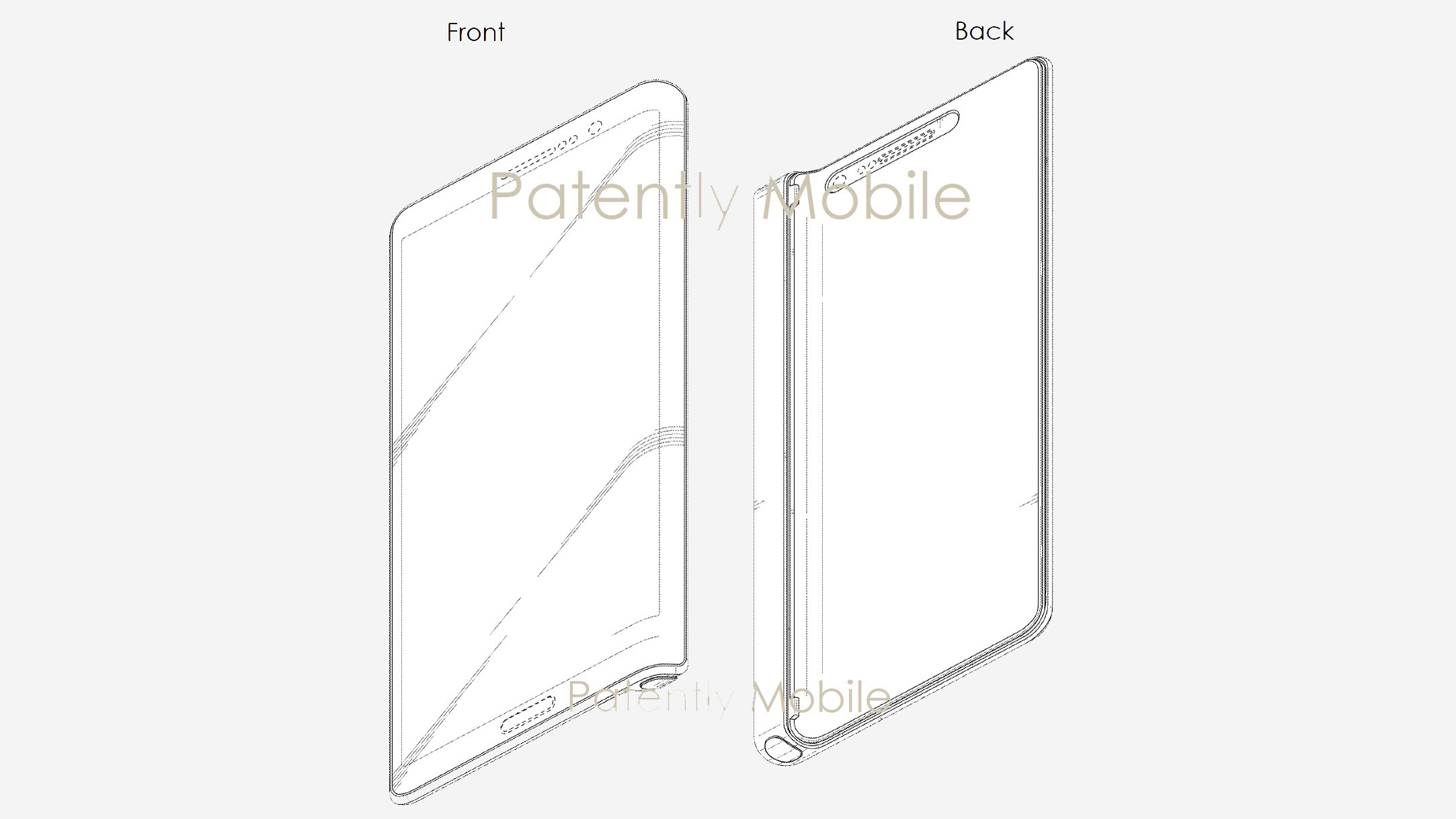 Instead of launching an overhauled Note this year, Samsung is said to be preparing a foldable Samsung Galaxy X prototype – not a phone ready for commercial launch. 
At best, next year's Samsung Galaxy Note 9 could test the waters with a foldable variant, much like it tested curved screens with the Samsung Galaxy Note Edge. 
TechRadar's take: The Note 8 will almost certainly continue Samsung's streak of debuting new technology in its second half of the year phone. At first it was bigger screens and S Pens, then the curved Galaxy Note Edge variant, and most recently the debut of Mobile HDR. What's next? A 4K resolution with expanded S Pen functionality at or around 6.4 inches could help differentiate this year's Note phone.
Samsung Galaxy Note 8 design
The Note 8 design is likely to take almost all of its cues from the glass-and-metal sandwich that is the Galaxy S8 Plus. It's almost a Note phone – minus the stylus.
Samsung's 'Infinity Display' doesn't seem like a one-off marketing term. It's here to stay. But it means there may be no physical home button on the Note 8.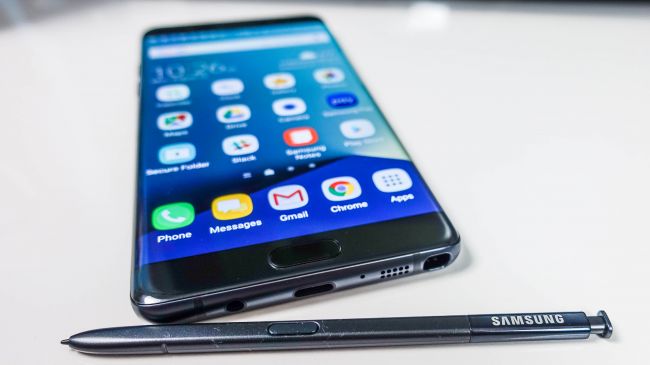 Instead, the Note 8 is rumored to have a pressure-sensitive screen that brings up different menus and options depending on how hard you press the display. The S8 and S8 Plus have this, but it's limited to the home button.
More than cloning Apple's 3D Touch screen technique, however, we're hoping that Samsung figures out a way to embed a fingerprint sensor in the screen. One of the latest leaks of a prototype device suggests the company may have found a way to do it as there's no sign of a physical fingerprint scanner.
The S8 and S8 Plus shifted the fingerprint scanner to the back, awkwardly next to the camera lens. Cue the smudges. But returning it to the front, under the display, would be ideal placement when such technology is ready – though rumors suggest it may not be ready in time.
TechRadar's take: The Note 8 design may not look too different from glass-and-metal Galaxy S8 Plus at 6.2 inches. We're bullish on that. We're hoping to see more rumors about a fingerprint sensor embedded in the front glass. It's an idea that'll be in Samsung's near future, if not the Note 8.
Samsung Galaxy Note 8 camera
Hottest leaks:
A dual-lens camera
3x optical zoom
Telephoto and wide-angle lenses
Samsung's camera is due for an upgrade, and the Galaxy Note 8 is Samsung's playground to try new things.
The 12MP sensor stayed the same from the Galaxy S7, S7 Edge and Note 7 to the Galaxy S8 and S8 Plus. Samsung promised it tweaked the software. Okay.
But we still anticipate seeing something different from the Note 8, and that could come in the form of a dual-lens camera, especially as exactly that has now been rumored by respected analyst Ming Chi Kuo.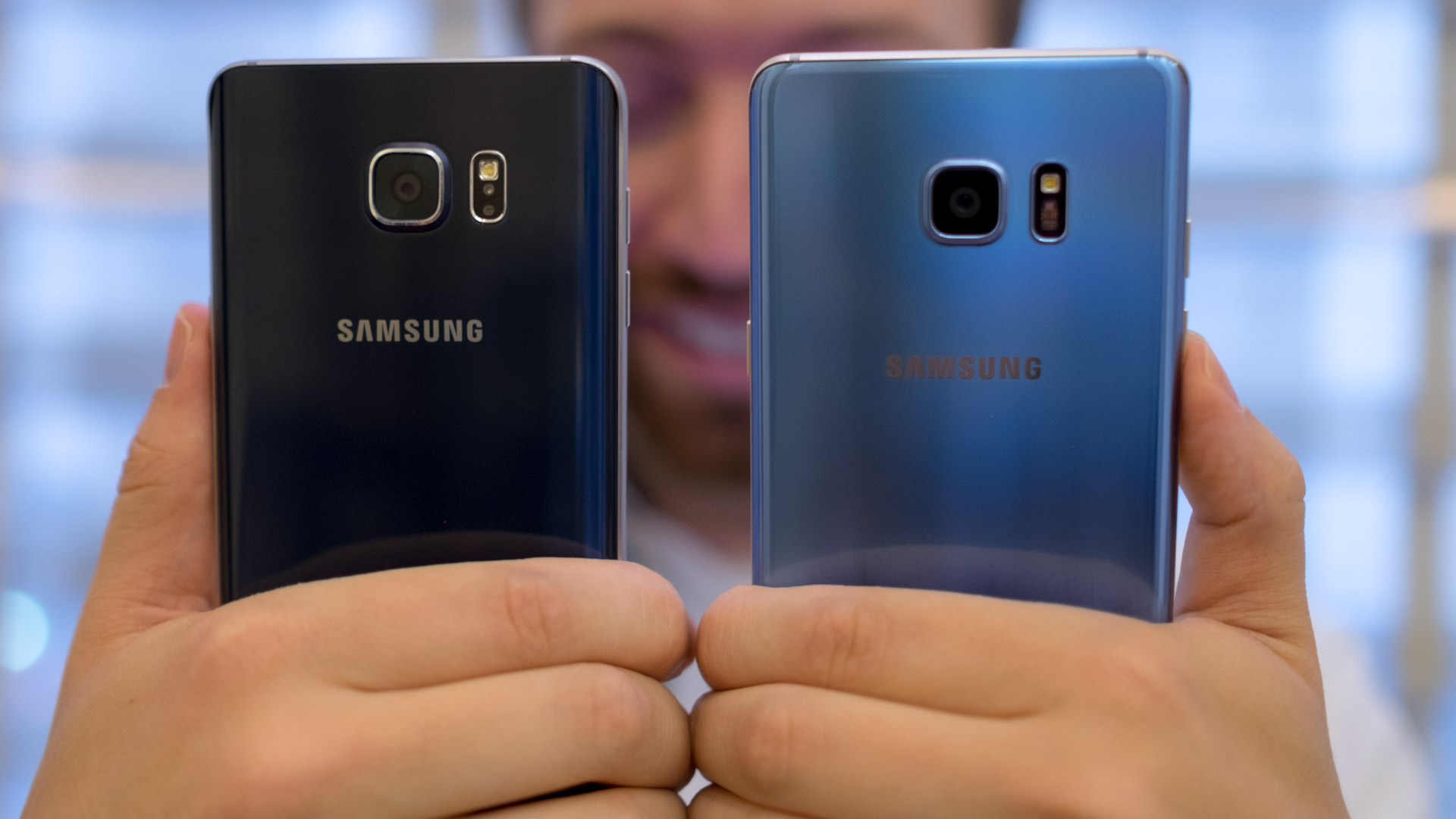 Supposedly, the Galaxy Note 8 will have a 12MP wide-angle lens and a 13MP telephoto one, and you'll be able to combine them for a 3x optical zoom.
That sounds a lot like the setup on the iPhone 7 Plus, which allows for a 2x optical zoom, though hopefully you'll also be able to use the sensors independently like on the LG G6.
Kuo adds that both cameras will also have optical image stabilization, and we also fully expect a 5MP to 8MP front-facing upgrade given that the Samsung Galaxy S8 and S8 Plus got that spec boost along with selfie auto-focus.
We've also now seen a render showing dual lenses on the back of the Note 8, so this is looking likely.
TechRadar's take: We're fully expecting Samsung to jump on the dual-lens camera bandwagon sooner or later, and as a flagship phone the Note 8 seems an ideal candidate.
Samsung Galaxy Note 8 battery
Wow. Here's a touchy subject for you. The Note 8 battery has to be big, in the ballpark of 3,500mAh, like Samsung's current crop of phones.
Samsung could technically go bigger – Asus Zenfone Max has a 5,000mAh battery. But we don't expect a such fightingly bigger number.
The Note 8 battery not only has to be safe, it has to look safe. 5,000mAh doesn't look safe. Plus, Samsung packs in a lot more internal technology.
The Note 7 findings confirmed that the explosions were the result of two different battery failures. So we expect Samsung to play it cool with a smaller battery capacity than it could technically go with.
Samsung Galaxy Note 8 OS and power
Hottest leaks:
A powerful 3GHz+ octa-core processor
Android Nougat
The Samsung Galaxy Note 8 specs are likely to reflect those of the S8 and S8 Plus, but may finally include a boost in RAM.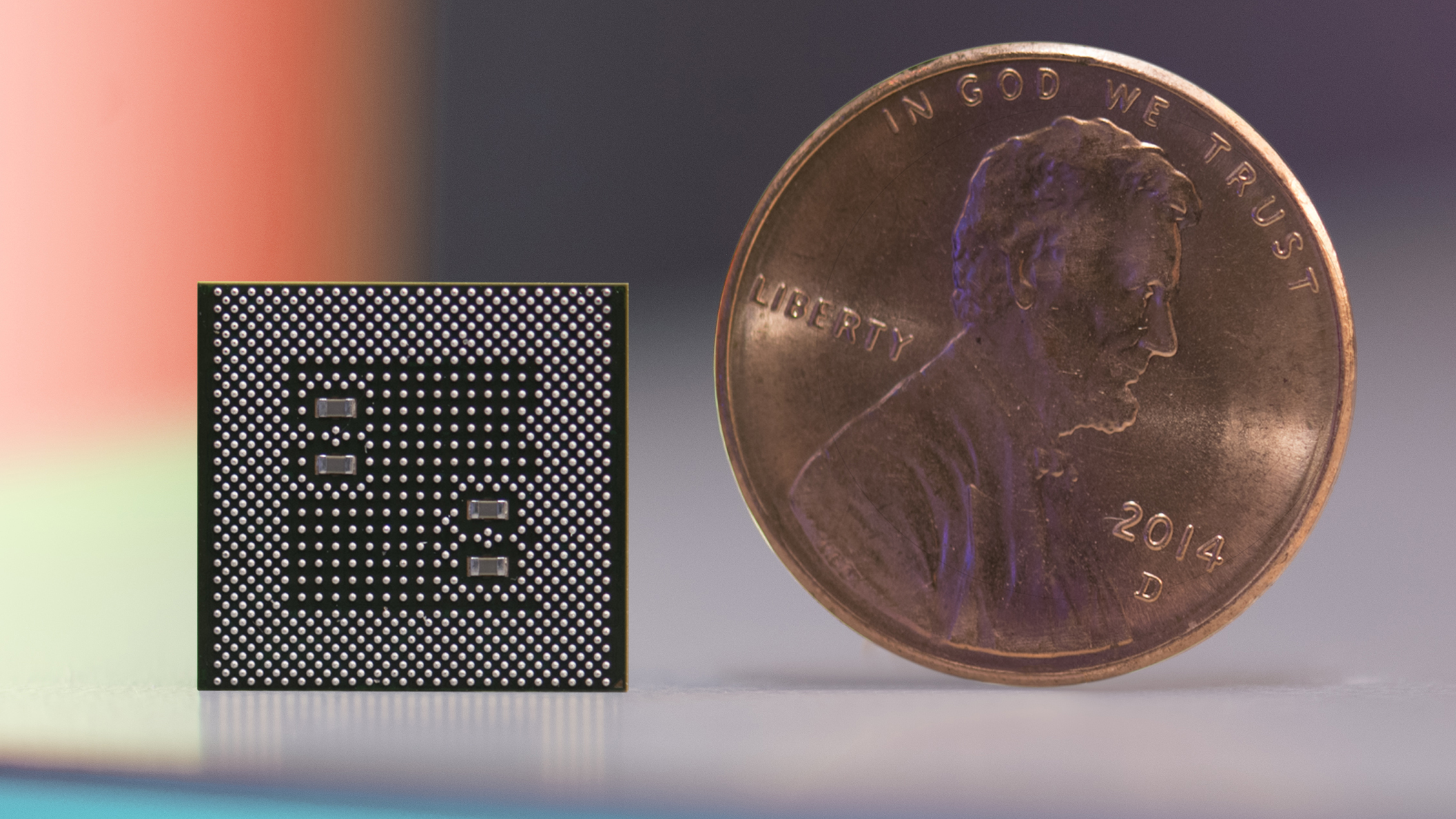 Samsung's newest phones just premiered in two chipset flavors: The Qualcomm Snapdragon 835 in the US and its own Exynos 8895 in the UK and other regions. The fact that Samsung is manufacturing both doesn't hurt the chances that they'll continue on to the Note 8, and indeed an Exynos 8895 has been rumored for the phone.
Here's the difference: It may jump from 4GB of RAM to 6GB of RAM. We were surprised to see Samsung didn't make a 6GB Galaxy S8 for the West, although it is launching that exact model in China.
A Note 8 with 6GB of RAM isn't out of the question then. More memory means more apps can be open at once, and Samsung is boasting that the 6.8-inch screen is great for multitasking.
Samsung renamed TouchWiz to 'Samsung Experience,' and it's actually likable. We expect a further refined operating system overlay based on Android Nougat, more specifically Android 7.1.1 if rumors are to be believed. 
Wanting Android O on the Note 8 is wishful thinking, as that's likely being saved for the Google Pixel 2, which is expected to launch later. Indeed, a new benchmark again points to Android 7.1.1 for the Galaxy Note 8 – though it's sure to get updated to Android O once that's available.
TechRadar's take: The Note 8 chipset may not change from what we saw in the S8 and S8 Plus, but it can differentiate itself with the long-awaited 6GB of RAM upgrade. This will further Samsung's drive toward multitasking on the phone and DeX desktop accessory.
Samsung Galaxy Note 8 other features
Hottest leaks:
A stylus with a speaker
A fingerprint scanner built into the screen
An iris scanner
Bixby AI 2.0
Like the Galaxy S8 before it we're hearing rumors that the Samsung Galaxy Note 8 could have a fingerprint scanner built into the screen. But will it happen this time? The render below backs the theory up, and also points to audio tuned by AKG, so the Note 8 could put a focus on sound.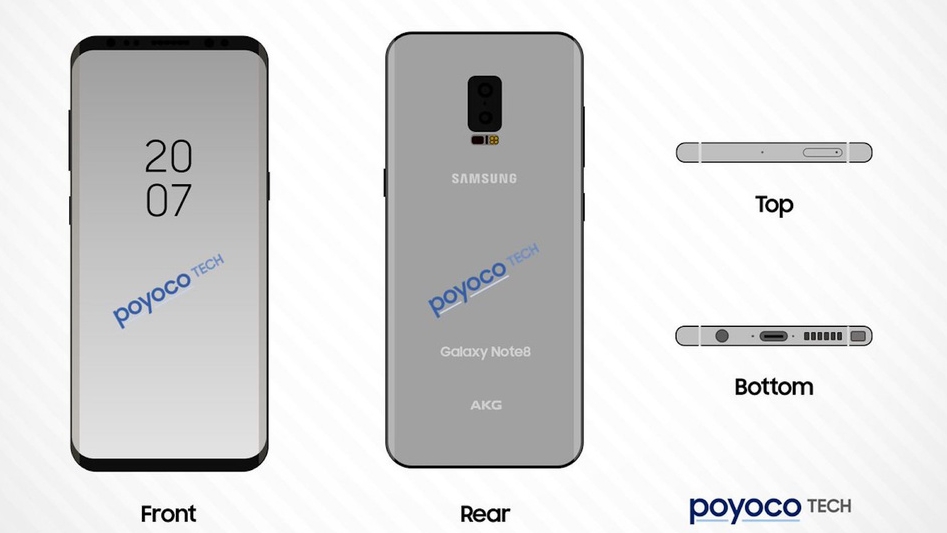 However, a Samsung official has reportedly said that the Note 8 won't have an in-screen fingerprint scanner as the company couldn't perfect the technology in time, so that's looking like an unlikely feature, despite the image above.
The S Pen meanwhile is a Galaxy Note 8 essential – it's why some people are holding off on buying the S8 and S8 Plus. Good things may come to those who wait.
The S Pen stylus could come with a built-in speaker, according to a new patent. What the speaker does isn't clear. It could very well read notes back to you. We've also heard that it might be able to vibrate.
Samsung has changed up its S Pen on the Galaxy Tab S3, so it has not been afraid to make it different (in the case of the Tab S3's it's much bigger).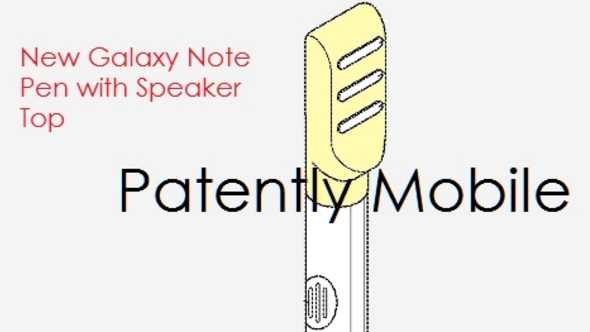 You can bet we'll see an iris scanner in the Note 8. This unique phone unlocking method debuted in the Note 7 and made its way to the S8 and S8 Plus.
However, we may see a more secure Galaxy Note 8 given recent reports that a group of hackers were able to bypass the iris scanner. Time to improve the tech.
It'll also inherit dust and water resistance with a rating of IP68, have a microSD card slot for expandable storage and Fast Charge via USB-C and wireless charge, too.
Samsung confirmed that it intends to expand its Bixby virtual assistant beyond the S8 and S8 Plus, so the Note 8 is a prime candidate for its Siri rival. Give it a couple months and it'll be much better – just in time for the Note 8 release date.
TechRadar's take: With Samsung Galaxy Note 8, you're going to get 'everything you see here' from the S8 and S8 Plus, and they're throwing in the S Pen. That means an iris scanner, dust and water resistant, fast wireless charging and Bixby AI are also expected in the new phone.
Samsung Galaxy Note 8 price
The Samsung Galaxy Note 8 is shaping up to sound like the S8 Plus, but better. Of course, that means it'll likely be more pricey.
Noted leaker Evan Blass says the phablet will launch with a sticker price of €999 or US$925 in the States, so you'd better start saving.
Considering the Samsung Galaxy S8 Plus price is $824.99 (£779, $1,349), you're almost certainly looking at a slight cost increase for the S Pen and expected 6GB of RAM. The Note 7 launched at $850 (£749, AU$1,349) – more than the S8 Plus in the US, less in the UK and exactly the same in Australia.
TechRadar's take: The Galaxy Note 8 is sure to be expensive, but probably won't be much than the Note 7 or S8 Plus, whichever is higher in your region.
Should you wait for the Note 8?
Samsung Galaxy Note 8 is built for S Pen users who refuse to work on their phone without a stylus. For these people, it's worth the wait.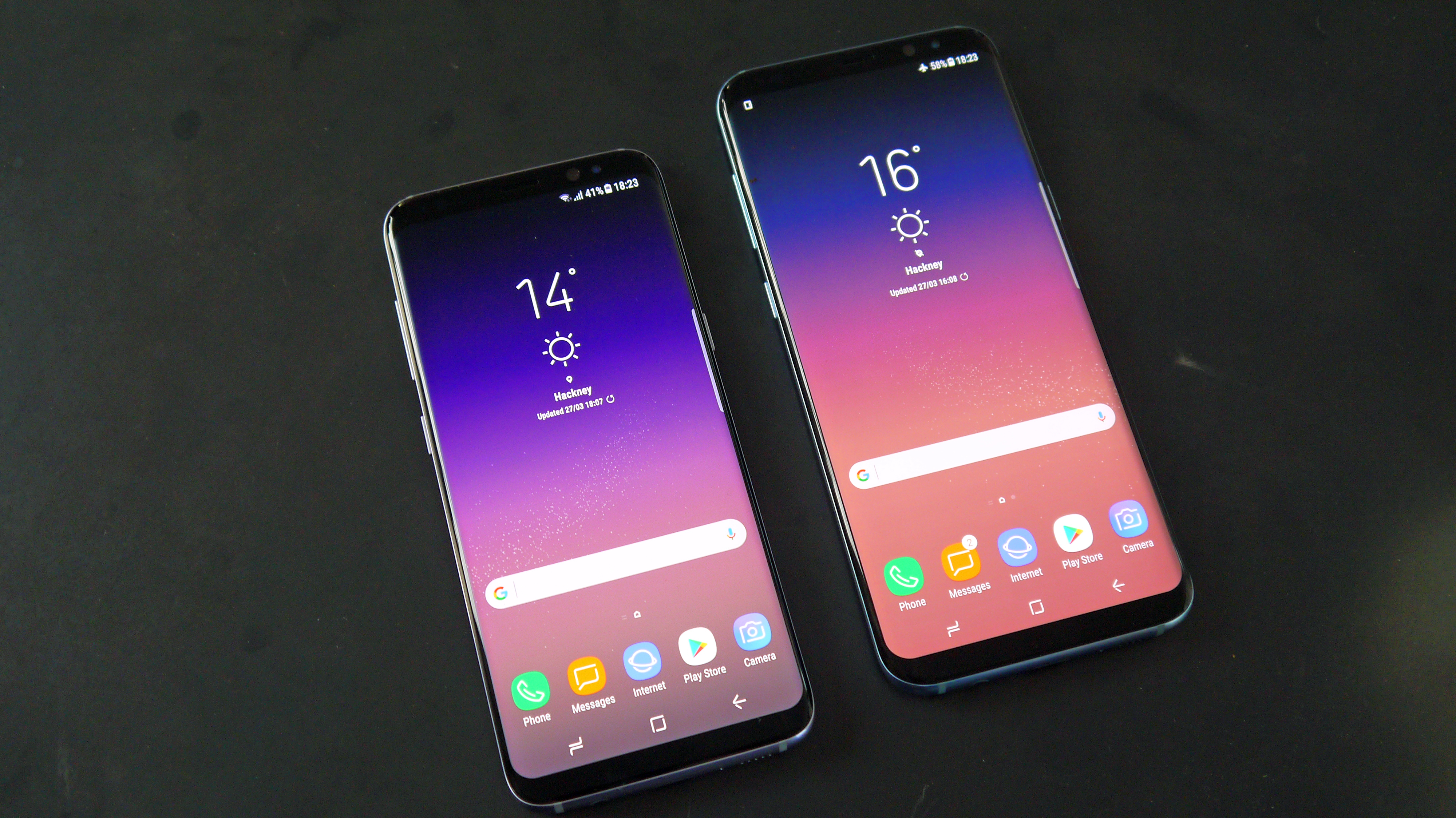 However, you're not going to miss much by checking out the Galaxy S8 Plus. It already has a 6.2-inch screen that tops the size of every Note phone before it.
Other perks we expect in the Note 8 are 6GB of RAM and a 4K display for a leap in Samsung Gear VR gaming that demands extra pixels. Don't need a stylus? Don't need a high-end VR headset? The S8 Plus is plenty of phone for you.
Pre-register for iPhone 8
Aside from distinctly fewer flames and explosions, there are a number of other things we'd like from the Samsung Galaxy Note 8, and the following are our top wants.
1. A lower price
For the brief period that it was on sale, the Samsung Galaxy Note 7 was colossally expensive, coming in at $850/£749/AU$1,349 if you bought it off contract.
The size and specs of the phone went a long way towards justifying that price, but it still put the phone out of many people's reach, so we'd like to see a lower price for the Note 8.
It's unlikely, but you never know, Samsung might drop the price as a goodwill gesture to all its fans that have had to go without an upgrade in 2016.
2. 6GB of RAM
Most current smartphones have 4GB of RAM, but a few, such as the OnePlus 3, have launched with 6GB, and a Chinese variant of the Note 7 was supposed to do the same.
With the Note 8, we'd like to see all versions launch with at least that much. It might sound like overkill, but it would help power VR experiences, and besides, the Note series has always been at the cutting edge.
3. A 4K display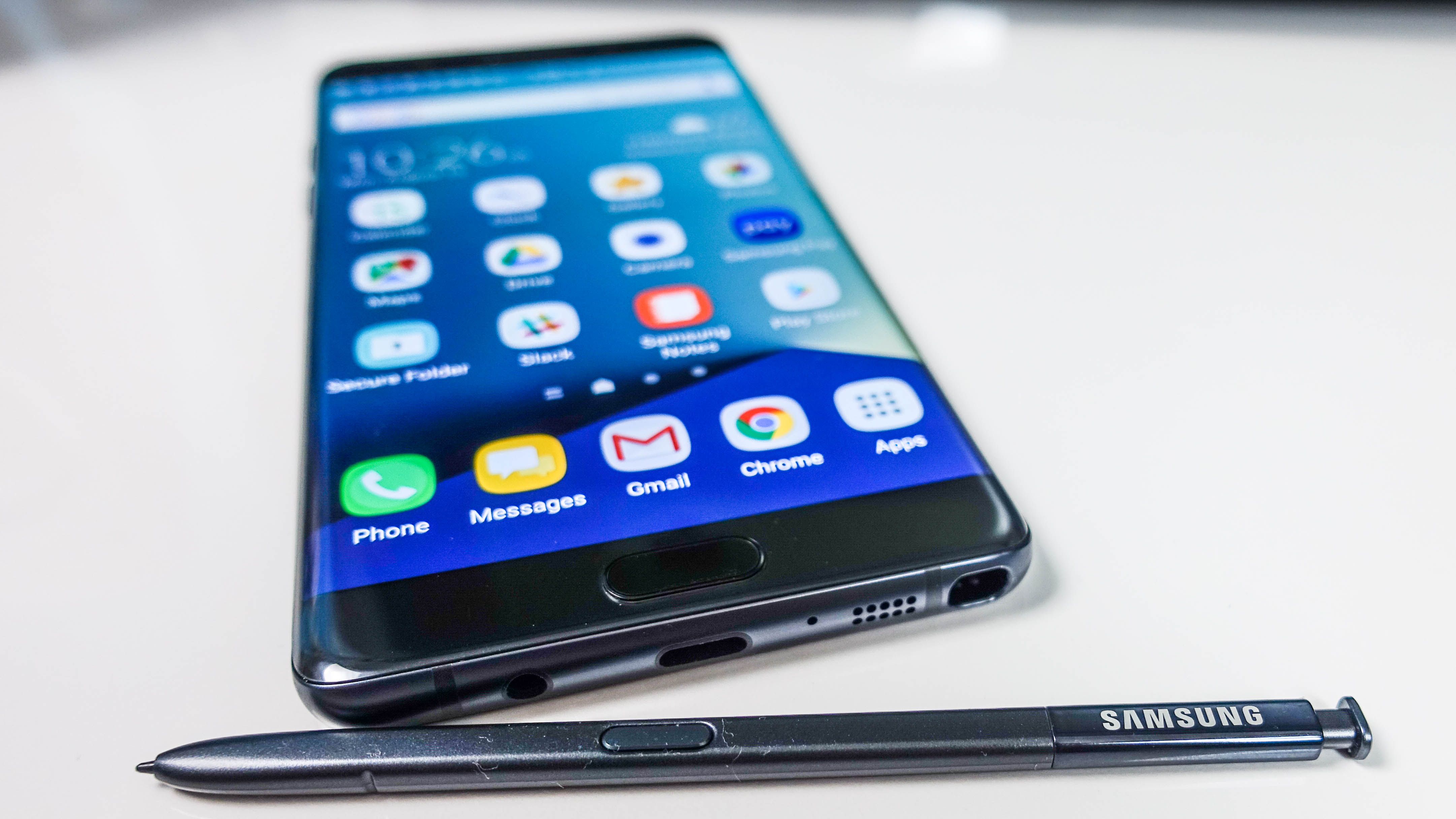 What would help VR even more than extra RAM is a sharper screen, and so we'd like to see a 4K display on the Galaxy Note 8.
Samsung has been peddling QHD screens for a while now, and with the extra size of the Note it's a prime candidate for a few more pixels.
4. Less sensitive buttons
It's a minor niggle, but the capacitive buttons on the Note 7, and indeed many Samsung handsets, are overly sensitive, leading to many an accidental press, particularly for those who are new to the handset, so we'd like to see these made slightly less sensitive for the Note 8 – but only slightly!
5. A foldable screen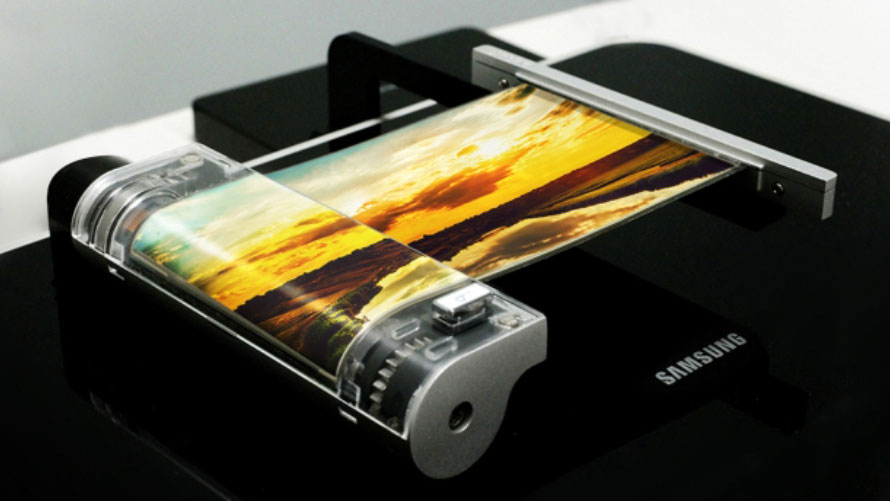 There's been talk that Samsung could start launching handsets with foldable screens in 2017. So, could the Note 8 be one of them? It's unlikely, but it seems like a natural evolution from the curved screens we have now, and would make the phone's sheer size more manageable.
6. No more bezels
OK, a foldable screen might be asking a bit much, but Samsung could at least ditch the bezels surrounding the display. That could allow the company to either pack a larger screen into the same space, or shrink the handset size down.
Ditching the home button could prove problematic, since it houses the fingerprint scanner, but there have been rumors that Samsung might build the scanner into the screen itself.
7. A new design
Samsung has been iterating on the current design of its phones since the Galaxy S6, so by the time the Note 8 launches it will be about time for a shakeup.
We want the curved screen to stay, unless the alternative is a foldable one, but a change to that metal and glass sandwich would be appreciated, as long as it still looks just as stylish and premium.